WELCOME TO
Health 1st Chiropractic - Chiropractor Athens, GA
If you are looking for a chiropractor in Athens, GA, you have come to the right place. What makes us stand out? Simply stated: We care and it shows. Dr. McClelland and the rest of our team are dedicated to providing the local community with a chiropractor in Athens and Watkinsville who everyone can trust. After all, chiropractic is for everyone: newborns, children, pregnant women, athletes, adults and older adults. We see people who have pain and disease, to people who are striving for optimal health.
Health 1st Chiropractic is a place where people come and feel like it is their second home. It is about LIFE, people, and health.
Specialties and Techniques
Our Chiropractor in Athens treats people of all ages. From the very young to the very old. Dr. McClelland has 17 years of experience and has spent many hours in study learning how to better serve his patients. Click the links below to learn more about his specialties:
Chiropractor Athens - About our Doctor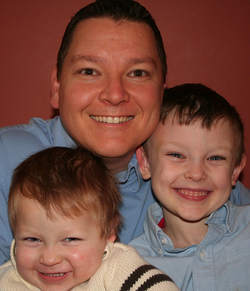 Meet Dr. McClelland - Chiropractor Athens, GA
When asked what he does, Dr. McClelland ("Dr. Rion" to his patients) doesn't say "Chiropractor". He always answers, "I'm a dad and a husband". When he's not at home fulfilling those duties, he loves being a chiropractor.
Dr. McClelland has been practicing chiropractic for 17 years. He graduated from Northwestern in 1998 with a doctorate degree in chiropractic and a bachelors of science in human biology.
Dr. Rion specializes in family care and trauma care. He has spent countless hours in continuing education to become certified in Neurology and MRI interpretation, accident reconstruction and spinal bio-mechanical engineering. He prides himself on "clinical excellence" and believes in only giving each patient his very best at each and every visit.
When not parenting or being a chiropractor in Athens, Dr. Rion enjoys woodworking, hiking and of course spending time with his family. Because after all--it's all about family! Read More.
"Dr McClelland is a very thorough chiropractor. I was in a car accident 9 years ago and in much pain, I couldn't even play with my children. I had been to many Drs, Specialists and Neurologists, they had me taking pain killers. Since I have been going to him I feel much better. He has been taking care of me for the last 6 years and I am among the living again. Thank you Dr McClelland for helping me be a good mother for my boys again."

Kelly M.
"When I was a teenager, my chiropractor worked mainly on my neck to help with my headaches, but I still struggled with pain every day. As I got older and more active, the pain went into my low back. I tried different chiropractors who used different techniques, but I still struggled with daily pain. Then I found Dr. Rion, who took the time to understand what was actually going on with my spine. He consulted many mentors and colleagues and was able to determine what technique would be the most beneficial for me. Dr. Rion brought my spine into alignment which decreased my headaches, sore neck and shoulders, and low back pain. Dr. Rion is passionate about helping people live a healthy, pain free life using the natural alternative of chiropractic care."
Rhonda S.
"Several years ago, I injured my back at work and it took months before I was able to sleep through the night. I was looking for a chiropractor in Athens and found Dr. Rion. After a couple of weeks, I was able to sleep and walk distances without needing to stop to rest. I have been seeing Dr. Rion for six years now, on a wellness plan, and I keep coming because it makes me feel healthy. I haven't gotten a cold or the flu for at least three years now. I live next door to a chiropractor, but I continue to drive to see Dr. Rion because he makes me feel better, more comfortable, and I trust him."
Lynn Charles
"Dr. Rion is the best in the business!"
"As a result of being involved in numerous sporting activities, my body has experienced quite the wear and tear in my young life. I originally came because of knee problems. Dr. Rion made a HUGE difference! I had seen a chiropractor in Athens before, but he just seemed to "bend and crack". Dr. Rion found the deeper meaning and cause of all the problems. He asked colleagues to help him make an informed decision about how to help me. I feel like I'm making a smart decision about my health when I come here. I love coming here because Dr. Rion is super friendly and I feel like he cares about every patient he has!"
RCarley R.
"I had allergies, back pain, neck pain and severe leg pain. I went to every doctor possible and had every test imaginable done for my leg pain. Nothing was found. After almost three years, I decided to see if Dr. Rion could help. After seeing him for about two weeks, I had some relief in my legs. He was wonderful! My muscles in my legs were very tight and he found that one leg was shorter than the other. Dr. Rion has helped me remarkably, I tell everybody to go see him."
Tonya C.
"Dr. Rion does an absolutely fantastic job! After seeing him for about 2 weeks he has completely relieved my lower back pain due to pregnancy and set up a wellness plan to help with other issues I have been having. I will definitely continue to see him and recommend him as a chiropractor in Watkinsville to anyone!
Faith R.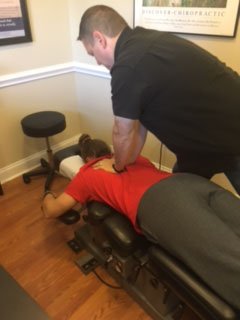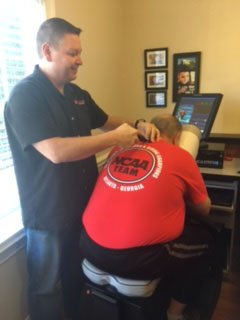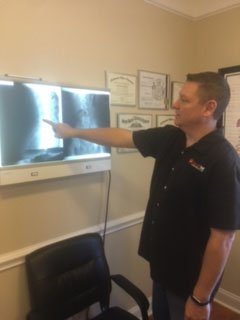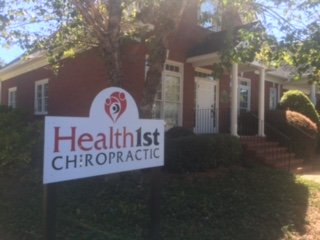 Chiropractor Athens & Watkinsville - CONTACT US
Have Questions? Please click on the button below to Contact Us.